On June 10, 2020, Hans Mezger passed away at the age of 90. On the occasion of the first anniversary of his death, we had the opportunity to speak with his son Oliver Mezger.
Mr. Mezger, June 10, 2021, will be the first anniversary of your father's death. That will certainly be a difficult day with mixed feelings?
He certainly will. On the one hand, my father can of course be celebrated on a day like this – his life and his work, his unique career at Porsche and the achievements for the entire automotive industry. On the other hand, we naturally miss him privately as a completely normal person, friend, grandfather, father and husband.
The Porsche Museum hosted a celebration for his 90th birthday. A very nice gesture!
My father gathered all his strength here once again and celebrated his round birthday with many companions. Among others, Richy Müller and Jochen Mass were there to pay their respects. That meant a lot to him. He really blossomed in the Porsche Museum. It was like "coming home" for him.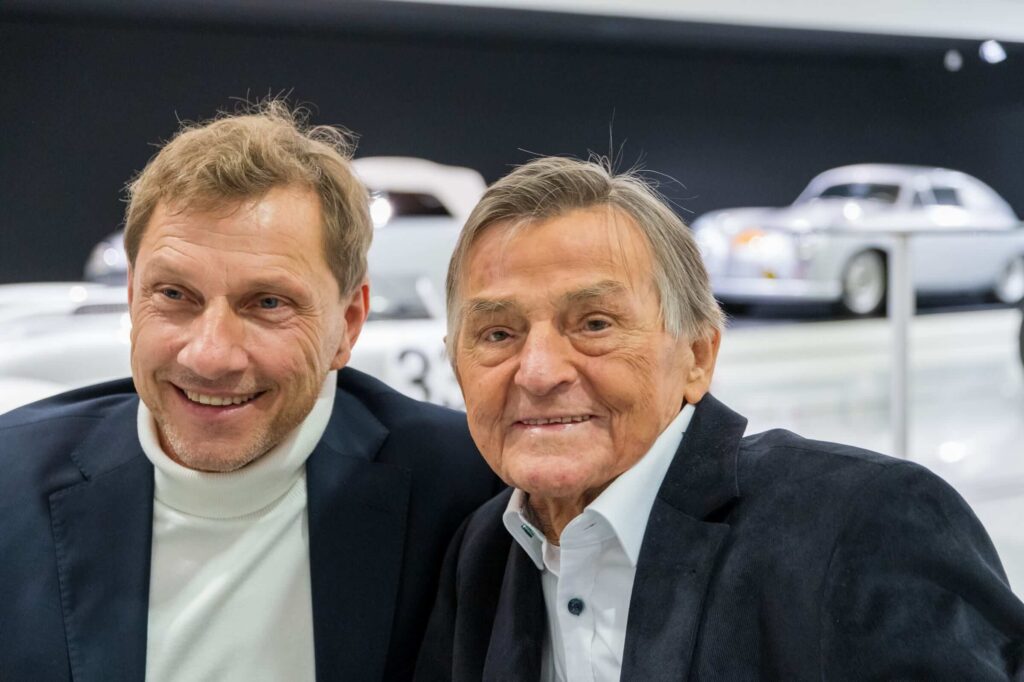 Your father gave his last interview a few weeks earlier in the historical archive at Porsche in October 2019 and still seemed very vital there?
You certainly can say that. Unfortunately, his health went downhill relatively quickly after that. During a trip to Austria lasting several days with former Porsche colleagues, he fell and injured his head and leg. Since he was very tough all his life, he did not take the following signs so seriously and delayed a visit to the doctor for quite a long time. This led to further complications and finally to a heart attack. But even during his phase of illness, he always regained his strength and so we hoped until the end that he would come home again. After all, his older sister lived to be 104 years old.
Your father still drove the very latest models from the nine-eleven series right up to the end?
He would not let himself be deprived of that! It still had to be the very latest Neunelfer. He last drove a 991 Carrera 4 S and still had a lot of fun with the car!
Was your father always a Porsche driver?
That was indeed the case. My father bought his first Porsche in 1960 when he was 31. It was a used 356 B model at the time. His boss was still driving an old VW Beetle at the same time…! After that came a 356 Cabriolet with hardtop.
He bought his first nine-eleven from Ferdinand Piech in December 1965. The latter drove one of the first Porsche 911s with the number 6 as his company car, a very early car.
Piech knew that my father also wanted a nine-elver after all, they had worked closely together on the engine and developed it. When Piech wanted to hand over his company car, he informed my father and, as a co-owner and family member of Porsche, gave him a good price. The number 006 then became his first Neunelfer. Later he drove a wine-red 911 S. Then came a 911 Carrera RS 2.7. Finally, in 1979, he bought a grandprix white 911 Carrera 3.0 coupe. This car ran as a test vehicle in Weissach. He then no longer sold this nine-eleven.
Your father had a unique career at Porsche and was very attached to the company. Did he like you to work at Porsche one day as well?
That was never expressed by him in concrete terms or formulated to me as a wish, but he would certainly have liked it that way. My interests, however, went in a different direction. I studied architecture and was always very interested in photography. He taught me photography as a child, by the way.
My father was a passionate photographer and there are many exciting photo series to discover in his archive – this consists of several thousand slides.
I was always very interested in his cars and projects at Porsche, but the profession of mechanical engineer would have bypassed my talents.
When you think back to childhood vacations with your family. Which vacation spots come to mind spontaneously?
In the 60s, the 70s and at the beginning of the 80s we regularly stayed at the Hotel Porschehof near the Schüttgut in Zell am See. Ferry Porsche and his sister Louise Piech had the hotel built as a vacation home for their employees. We always spent very nice vacations there. Several times we were also on the Porsche-Alm and participated in the Alm-Abtrieb. The cows always wore a colorful headdress, a very beautiful and impressive experience.
In honor of Hans Mezger, the book "911 Turbo Air-Cooled Years 1975-1998" was published in the "Hans-Mezger Edition 2020". It was published in a limited edition of 2020 copies and, in addition to a detailed biography, also contains his last interview, which he gave in October 2019.
On the first anniversary of Hans Mezger's death, his private 911 Carrera 3.0 was released as a model car by Minichamps on June 10, 2021 in a limited edition of 2020 units.
Could the vacation in Zell am See really be called a "vacation", or were there also "official appointments" for Hans Mezger?
Yes, that was really a vacation. But when my father was in Zell am See, word got around. And there was a large community of racers, mountain racers and other acquaintances who came by. There were then also sometimes the one or other official appointment. Several times my father also met representatives of the Porsche and Piech families in Zell am See. Sometimes there was also an appointment at the then Formula 1 track in Zeltweg, then the job went on, of course…! Nevertheless, the vacation always came first.
Did the four of you drive to Austria with all your luggage in the Porsche, too? The shots almost suggest that?
Up until the 70s, all four of us actually went on vacation to Zell am See with a roof rack on the 911. We always had to organize special roof racks from Porsche for this, because normal racks didn't fit on the Porsche 911. That was then always quite an amusing appearance and sight.
The best story on these trips, however, was a very special luggage rack. This had been designed by Porsche's development department. It was an aerodynamically shaped box made of fiberglass parts. We were given a prototype of this roof box for the trip to Zell am See. Somehow you couldn't close this box properly, and when you accelerated, parts of the Mezger family's luggage flew out onto the highway. That was really unpleasant at the time. Today, you can have a good laugh about it.
That was our last trip as a foursome in the 911 to Zell am See. After that, my father took me and my sister Daniela to Zuffenhausen. From there, the factory bus drove to the Porschehof in Zell am See with many other vacationers. My parents then arrived comfortably by 911. There was no tunnel back then either. I can still remember a large granite wall at the entrance to Zell am See. The engine sound always resounded so beautifully there and it got loud. Then I always knew: we are there! It only sounds like that in Zell am See.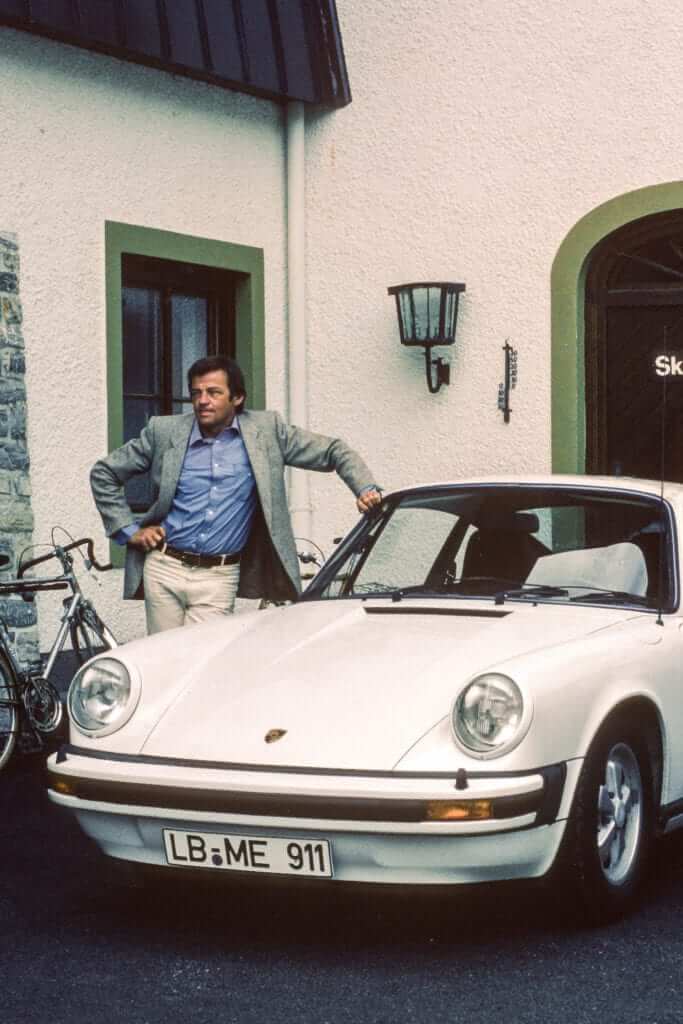 During his last interview in Porsche's historical archive, your father hinted that he wanted to get his Grand Prix white 911 Carrera 3.0 "back on the road"? It probably never came to that?
Exactly, the course of his illness no longer allowed that. He would also have loved to drive his company car – but then we had to give it up. I have now taken over his wish to get the Carrera 3.0 back on the road. EARLY 911 S has overhauled the car in parts. It has now been given historic registration and will soon be back on the road, just as my father had planned. His favorite car will stay in the family and be moved for special occasions. Possibly it will also be exhibited in the Porsche Museum one day. That would make me very happy.
Mr. Mezger, thank you very much for the interview.