Porsche Calendar 2022: The Porsche 911 Calendar for the air-cooled classics of the 964 generation "Air-Cooled Forever 2022"
For the year 2022, Berlin Motor Books is once again publishing a limited edition calendar for the Porsche 964. This model series became one of the most important in the history of the nine-eleven, as modern technology catapulted the already moribund concept of the air-cooled boxer engine in the rear into the present. In 1988, the 911 Carrera 4 was even way ahead of its time as the world's first all-wheel drive production sports car.
The twelve motifs show the model diversity of the Porsche 964. Among the various models of the 964 are some of the greatest highlights of the nine-eleven ever. The 964 Turbo 3.6 in particular, but also the 964 Carrera RS, continue to captivate fans to this day.
The individually numbered calendar is limited to only 964 copies. The calendar is printed in high quality in landscape format 59.4cm x 42cm and has a sturdy shipping packaging.
Our calendar page for January shows the Porsche 964 Turbo S Lightwight. This fascinating vehicle was photographed by Rémi Dargegen. Only 86 copies of this special model were created.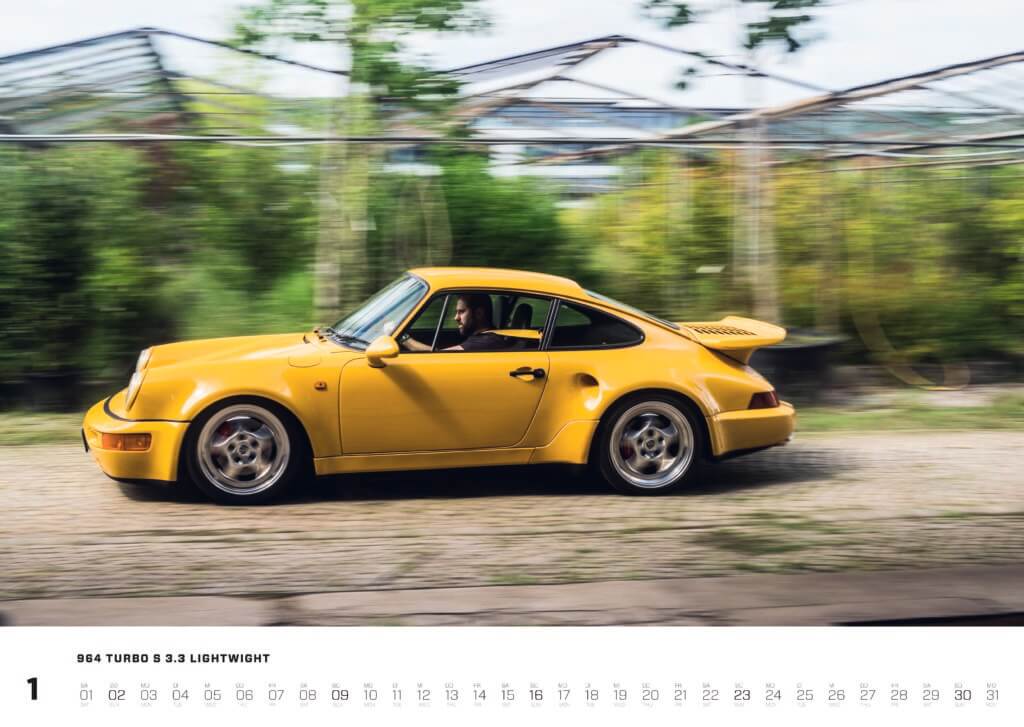 The guards red 964 Turbo S "Package Car" from the calendar page for February comes from the collection of Brett Sloan. Only 17 examples of the Package Cars were produced in the 1994 model year.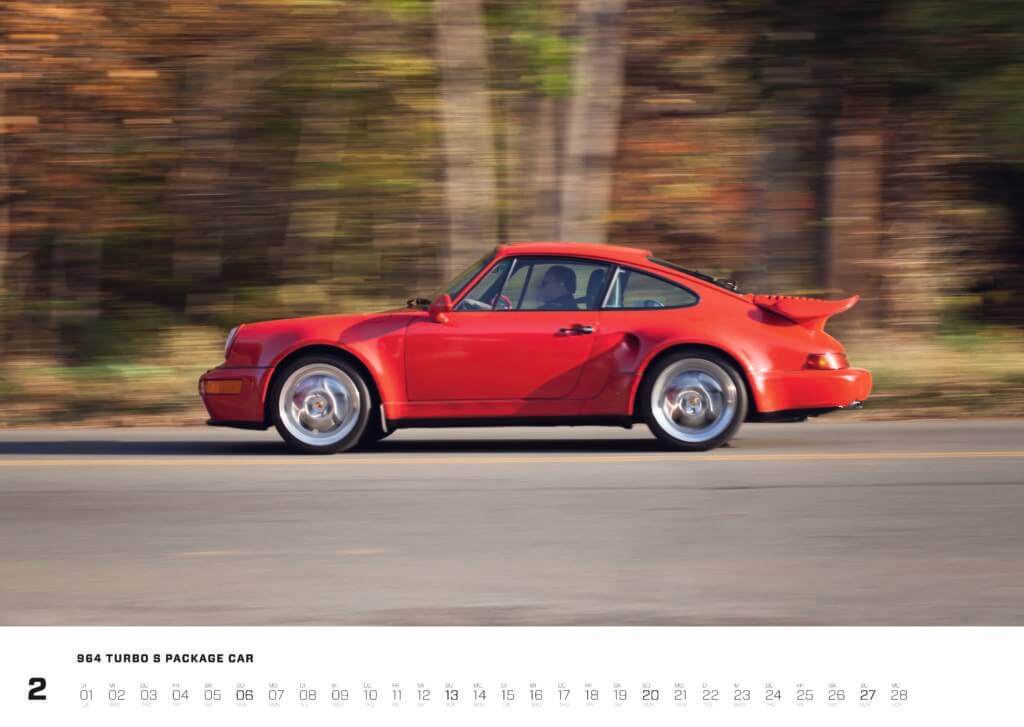 The calendar page for March shows the 964 Carrera RS 3.8. This car is considered one of the greatest rarities within the 964 series. Only 55 examples of the Porsche 964 Carrera RS 3.8 were created in 1993, and this rare example in silver metallic was photographed by Remi Dargegen.
Is there a more beautiful color for the 964 Carrera RS than Grand Prix white? The vehicle for the month of April was stylishly staged by BILDERMEISTER Gerrit Glöckner.
On November 30, 2021, Berlin Motor Books will publish "PORSCHE 964 THE BOOK 1989–1994" in a limited edition of 1994 copies.
Special features in this book
Detailed purchasing advice and price trends
Extensive information about special models and prototypes
Unpublished documents and photographs from the historic Porsche archives
Learn more about the book
The publishing house Berlin Motor Books releases its own in-house calendar for the Porsche 993. The individually numbered calendars will be published as a limited print run of only 993. The Porsche calendar for 2022 from Berlin Motor Books is printed in high-quality landscape format 59.4cm x 42cm and comes with sturdy shipping packaging.
TO THE CALENDAR